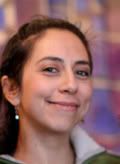 Natta Haotzima, Art Director / Dancer. 
Mexican-born dancer/poetess. She transmits simplicity, harmony and peaceful community living through her varied art expressions. 
From an early age, Natta has been interested in healing and she studied the Holographic Repatterning System established by renown Scientist Chloe Wordsworth, which identifies unconscious patterns and energy restrictions.  Later on in life, Natta studied other healing therapies such Sound Frequency Therapy, Education Kinesiology, Reiki, Healing Movements and Yin Shin Acupressure Points. Natta Haotzima studied at the Choreography School of UNAM, the National University of Mexico, as well as at  the James Carte's Ecole de Danse in Toulouse, France, and the D'Jonibas Center in New York City. Her dance credits include dancing with the "Street Theater and Circus Production" in Mexico, the Ecole de Cirque de Quebec (who are the co-founders of the Cirque du Soleil), with "Aerial Dance & Precarious Balance," with Humanicorp Dance Company, at the National Institute of Arts (Bellas Artes), and with the Circus School of Barcelona, Spain. Locally, Natta has studied with Project Bandaloop and the Vertical Dance Workshops.  She has performed with Lulacruza, Elizabeth Mendana Productions, and Diana Suarez. In term of multimedia art, she has exhibited in different museums in Morelos, Mexico such as The Museum of the City of Cuernavaca, "Jardines del Sol" in Ocotitlan, Ex-convento de Tepoztlan and Auditorio Ilhucalli; in Chiapas at the Auditorio de Tuxtla Gutierrez; in San Francisco at The Mission Cultural Center, at De Young Museum and in Oakland at The Mills College Theater. Natta once confessed that her favorite magic place to dance is on any nation's street. At this moment, Natta is teaching aerial dance in conjunction with Studio 12 in Berkeley, and following Buddhism at Hua Zang Si Temple in San Francisco.
Natta's website: www.natta.me 
Mayra Hua Qiao,  Managing Director /Dancer.
Mayra is a multifaceted dancer. Her first incursions in dance were with fire dancing and street performing in Mexico City. And it was here that she decided to begin formal dance training in West African Dance which she passionately pursued for more than ten years while working and teaching. As part of this commitment,  she traveled to Guinea, in West Africa to deepen her studies and techniques of traditional Guinean dances. She was able to enrich her repertoire as a folklorist of African descent expressions with a variety of dances such as Afro Cuban, Sabar, Congolese, Mexican Folklore, and Afro Brazilian. Later, after an encounter with Modern Dance, style was transformed to a purely alternative concept. her Parallel to studies in dance, she also has a strong fitness-training background. She studied various forms of body awareness in Mexico City and San Francisco. In this quest, she was captivated by Yoga and Pilates techniques, and become a certified instructor in both. Today she has four certifications and five years of teaching experience and practice. Mayra has conducted many  dance workshops and Master classes in different places such as Nativa and Epicentro dance schools, ITESO and UNISON Universities in Mexico City. She has danced with dance groups such as Bakan, Gaia Ceiba and Raiz Negra from Mexico.  At this moment, she is dancing with the Liberation Dance Theater Company with Jacinta Blanch, Opera Muerta by John J. Leanos and building the project "The Tea Dancers / El Ballet de la Compasión" with Natta Haotzima in The Bay Area.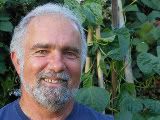 Jim Beatty, Board Chair & Adviser
A teacher, dancer /theatre artist, father, grandfather, writer and friend. I manage the 8th Street Studio, and teach Creative Movement/Theatre and Yoga Stories at many East Bay pre-schools and at "Ha Ha This A-Way's Creative Movement/Theatre Arts, an after school program and summer day camp for children, which I founded in 1991. Please visit www.hahathisaway.com for more information. Thank you for supporting The Tea Dancers / Ballet de la Compasión.
Chris White, Tecnical Director / Painter.

White's art-making began with painting during early childhood.  The simple immediate pleasure of creation has dominated his nature.  He lives near the beach in San Francisco and has a studio located, where he grew up, in Half Moon Bay, California, where he paints, does framing, woodworking, and other art mediums.  Though the bulk of his time is spent  on crafts, performance has been an important facet of his character.  In 2009, he installed a "sound bar"  at Space Gallery in San Francisco, inviting people to order a 'sound coctail,' in which various live and recorded sounds were mixed and funneled through tubes into the listeners' ears.  White embraced performance art while attending UC Santa Barbara from 2000-04,  earning a degree in Studio Art and Global Studies.  Since he became a director of the Tea Dancers/Ballet de la Compassion, Christopher has enjoyed live painting in venues such as the Emeryville Senior Center and the De Young Museum.  He is also training as an aerial dancer with Natta and The Tea Dancers.   Selected Exhibitions of White's work include:  
-February 2009, Inaugural Desecreatures, with Mahader Tesfai, Martin Machado, Rohini Moradi, Space       
-March 2006, The Motion of the Ocean, collaborative show with Dina Danish, Tom Bates,  and Mac Parker, American University in Cairo, Cairo, Egypt Gallery , San Francisco 
-May 2004, DIT (Do It Together) - video/performance: "The Tea Party" collaborative  exhibition, Echo Park (Los Angeles), CA
Works can be viewed at www.christopherhowardwhite.com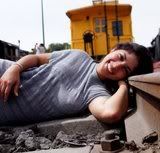 Gisela Pérez Fernandez, Video artist

Mexican and "jarocha de corazón". She has dedicated most of her life to create greater awareness in society of the great importance in life of the "little things," a smile, a hug, sincerity, that can change one´s whole spirit for a day, for the better. With the strong conviction that changing the world is do-able, she founded "Mundo con Iniciativa"  (World with Initiative, an NGO) to motivate people and move towards change. She hosts the radio show "Zona de Paz" (Peace Zone) in the State of Puebla, while she's studying  Entrepreneurial Management Engineering. She is also a human-rights activist, drummer, producer, digital reporter, and a pinch of a journalist.  All of this together, with a touch of craziness, make up her whole being.
Visit her Zona de Paz Facebook page here
 Dan Wool,  Sound Designer and Composer
Originally from St. Louis Missouri, Dan Wool is a San Francisco based composer who has worked in New York, Los Angeles, London and Mexico City creating scores for more than 35 feature film and broadcast television projects, including seven films for celebrated cult filmmaker Alex Cox (Repo Man, Sid & Nancy). He is perhaps best known as the principal composer in the soundtrack-group Pray for Rain. Dan has also worked extensively creating sound and music for Japanese advertising and also as sound-designer for several short films and documentaries for the BBC and Channel 4. As a music producer, and engineer, Dan has collaborated with international artists such as Philip Chevron and James Fearnley (The Pogues); Debra Harry (Blondie); and many Bay-Area artists, including The Mermen and Kally Price. In the performing arts, he has composed scores for Liss Fain Dance including "Speak of Familiar Things" (performed at YBCA and at the Beck & Eggeling Gallery in Germany in the summer of 2010) and "The True and False are One" (performance and sound-installation at Z Space at Theatre Artaud in December 2010). He has also worked as a sound engineer and/or sound-designer on dance-compositions with composer Beth Custer (Joe Goode, Jo Kreiter), composer Rob Reich (Circus Bella, Gaucho, Tin Hat) and for choreographer/dancer Sonsherée Giles (Axis Dance Company). In October of 2010 Dan performed in composer Jem Finer's "Longplayer" installation, sponsored by the Longnow Foundation at YBCA. He has also created sound-installations for Oakland based visual artist Ben Smith.
 Roya Arasteh / Loyal Group/ Dancer
Roya was born in Washington, DC and, inspired by her brother, migrated to Berkeley to attend school. She graduated from UC Berkeley with a degree in Comparative Religious Studies, and since then, has absorbed the magic of Northern California.  Most recently, she spends time teaching pilates (and loving it) and studying dance. Her long-time love of movement recently blossomed at Studio 12 in Cherie Carson's Aerial Dance classes and Natta Haotzima's classes in Aerial Tissu. Dancing with the "Tea Dancers" is her dream-come-true!  Roya's other thrills include bicycle touring, Caribbean music (and dance) and jazz.
 Marielle Boland /Loyal Group/ Dancer
Marielle Boland, 14 years old, was born in Berkeley and has been dancing all her life.  She has been involved with "Teens Who Fly" at Studio 12, becoming accomplished in performing rope-and-harness and single-point trapeze. Since the beginning of 2011, she has been a dedicated Tea Dancer and danced for the Emeryville Senior's Center.